Sisters, Oregon, the heart of Sisters Country, is located on the east side of the Cascade Mountains in Central Oregon, 101 miles SE of Portland, Oregon.
Sisters is just 20 miles NW of Bend, Oregon and 19 miles West of Redmond, Oregon. Sisters is accessible via highways 20, 22, 126 and 242.
Local Airport:
Sisters Eagle Airport (ICAO - K6K5, IATA - 6K5)
Located one mile north of Sisters. Public, VFR, open 24 hours
Owner: Benny Benson
Phone: 541-719-0602
Closest Commercial Airport:
Roberts Field, Redmond Municipal Airport is an easy 20 mile drive to the east. It offers service from Portland, Seattle, Salt Lake City, and San Francisco. New flights are happening all the time, please check with the airport for schedule.
The three major air carriers are:
Horizon/Alaska Air - 1-800-547-9308
United & United Express - 1-800-241-6522 or 541-923-5625
Delta Airlines - 1-800-221-1212
Flights depart daily to Portland International (PDX), Seattle International (SEA), San Francisco International (SFO), and Salt Lake City (SLC). Delta, United and United Express flights are operated by SkyWest Airlines.
Ground Transportation:
Rental cars are available at the Redmond airport.
Cascades East Transit has local Central Oregon routes that connect different communities throughout the region. Call Cascades East for additional information on all routes 1-866-385-8680.
Tripcheck can provide transportation information on bus schedules from the valley.
Highway Information:
Check the Oregon Department of Transportation webcam links below for up-to-date highway conditions and information.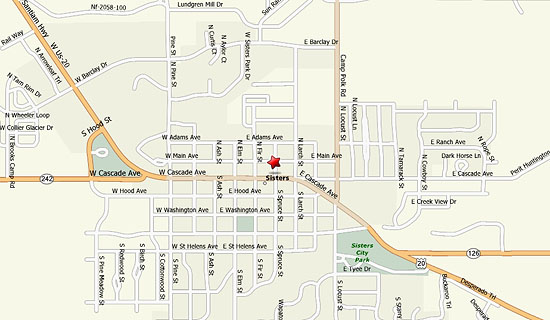 Downtown Sisters Oregon